Your source for Mountain Biking in the Triangle

Raleigh-Durham-Chapel Hill
Trail Name
Current Trail Status
Status
When Updated
Who Updated
More Info
Help keep this info accurate by clicking the red bicycle
open
04/28 8:13 am
Juancho
Average ratings submitted by users
Write a review
User submitted reviews
| | |
| --- | --- |
| Category | Average Rating |
| Overall : | 3.7 / 5.0 based on 23 votes |
| Technical : | 3.0 / 5.0 based on 23 votes |
| Climbing : | 1.8 / 5.0 based on 23 votes |
| Freeride : | 1.6 / 5.0 based on 23 votes |
| Scenery/Wildlife : | 2.9 / 5.0 based on 23 votes |
| Flow : | 3.3 / 5.0 based on 23 votes |
Description
Location: Just off 15-501 half way between Chapel Hill and Pittsboro, west of Raleigh about 15 miles
Miles: 8-9
Skill Level: Intermediate (some advanced)

Map
Directions
Park Hours and Fees
Rules of the Trail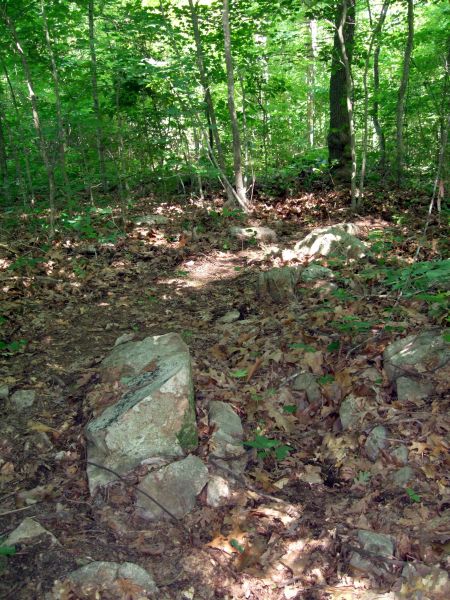 The Briar Chapel trails are still under construction but there is a decent loop at this time. The trails are mostly novice skill level without much climbing, but there are multiple sections of intermediate skill level and several rock gardens which will be difficult for just about anyone if the toughest line is chosen.
We need more photos of Briar Chapel. If you have a picture you'd like to let us use, please contact trianglemtb@yahoo.com!
Directions
If coming from the south, from the intersection of hwy 15-501 and hwy 64 just north of Pittsboro, take 15-501 north for about 6 miles. Briar Chapel Parkway is the first left past Jack Bennett Rd and is only about 0.2-0.3 miles past Jack Bennett. Take Briar Chapel Parkway as directed below:

If coming from the north, take hwy 15-501 south about 5.8 miles from the intersection of hwy 15-501 and hwy 54 to Briar Chapel Parkway which will be on the right. Take Briar Chapel Parkway as directed below:

If coming from the east, you have to get around Jordan Lake. Use the mapping source of your choice to find a route which best leads to the intersection of hwy 15-501 and Jack Bennett Rd and pick up Briar Chapel Parkway and then follow it as directed below:

Follow Briar Chapel Parkway about 1.7 miles to a traffic circle. On the opposite side of the circle on the right is the clubhouse and pool and there is plenty of parking here. Ride down Norwood Drive about 1000 feet and the trail will cross. The trail rides well in either direction.
Driving Directions via Google

Hours and Fees
Free of charge, 24 hours a day, 365 days a year!
Do not modify the trail. All work must be sanctioned by the land managers.
All riders must wear a helmet.
Keep your bike under control.
Do not disturb or alarm wildlife.
Pets must be kept on a leash at all times.
Leave no trace (don't litter).


This trail is open for night riding at any time.

Review Briar Chapel trail
Rules, guidelines, and definitions for our TriangleMTB.com trail reviews

The trail reviews should be reviews based on first hand knowledge. If you have never ridden the trail, then ride it before reviewing it.
Obviously, the ratings and reviews should be just that, not big discussions, stuff for sale, or chit chat.
Ratings should be made relative to the other trails in the greater triangle area of North Carolina (listed on our review page). For example, the "Technical" difficulty rating should be relative to the most technical trail listed on our review page.
There should be no references to other reviews in your review (eg. you should not argue or state disagreement with other reviews).
No profanity or vulgar words or context.
Keep in mind, these reviews are opinions only. One mans pleasure is another mans pain. Take the reviews with a grain of salt.
Please report inappropriate reviews using the link that appears beneath the rating summary of each review.
You must be logged into our forum to submit a trail review.
Briar Chapel trail has been reviewed 23 times by our trianglemtb.com guests.
Visited Briar Chapel for the first time lately. Left unimpressed. Probably will not go back. We were not sure exactly what to expect. Had seen photos and watched videos. The outer loop trails is ok with decent flow. But could have been much better designed to take better advantage of the terrain. Lots of erosion. Bennett Mountain was interesting, but a complete waste of time. I'm sure someone enjoys billygoating through piles of huge rocks, but it's not my cup o tea. Again, another complete waste of opportunity to turn interesting terrain into something rideable and fun. From Raleigh, Briar Chapel simply doesn't warrant the drive.
Great trail. My wife and I just moved to Chapel Hill from Texas and live riding distance from the Briar Chapel. So far it is the best we have experienced in the Triangle area. The diversity of terrain ranging between flow track, twisty tree sections, fast flats, and, best of all, the rocks on Bennett Mountain are excellent. I have ridden this trail on my 100mm XC bike and 160mm trail bike and had fun on both. There is something for every style of riding. At some point there were beginner / intermediate jumps on several sections of trail, but they are very eroded as of this review.

A note to first time riders: While easy to navigate after one or two rides, we got lost several times on our first outing (counter clockwise from 1574 gravel road) despite looking at the map beforehand. First, there is a main loop and numerous trail splits with no markings such as "Bypass" to indicate it is a shortcut. Second, there is an out and back section to the school that dead ends into a field. We rode around for 5-10 minutes expecting to find somewhere for the trail to pickup again. After fighting with our sweaty gloves and iPhones for several minutes we realized we had to turn around. Third, when we got to Bennett Mountain, it seemed we were going backwards up a rocky downhill trail. I say this because of the bermed switchbacks and rock features. We know now that this section is not looped, but rather two directional our to a "lollipop" loop with flow trail. When you come back down Bennett Mountain there is no indication that you should turn across the wooden bridge to finish the main loop and instead, we rode into some bandit trails that although fun, was frustrating when we thought it was part of the main trail system. I would just say, make a copy of the Map handy and know that the TrailForks and ProjectMTB apps may not be entirely up to date.

With all of that said, this is my new home trail so I look forward to donating trail work time to improve areas that I noted as needing work above!
More rock sections, you need to make good line decisions up on Bennet Mt.
Fun to ride overall
One of the best trails in the Triangle area for a quick 1-2 hour ride IMO. It has good flow which makes it a fun. There is really just one technically challenging section (mainly rock gardens) that has an optional bypass marked with signage. There is a gravel lot for bikers on Briar Chapel Parkway. If you enter Briar Chapel Parkway from 15-501, continue straight when you get to the roundabout and the lot is about 0.5 mi on the right. Please keep in mind that walkers also use the trail, so be polite and respectful.
I'm maybe biased since it's the closest trail to me, but this is my second favorite in the area after San Lee. I think it's current rank in the ratings on this site terribly underrates the trail (IMHO, it blows crabtree out of the water). With the addition of Bennett Mt and ETD trail sections there's now more technical rock gardens, more climbing, and more flowy sections. You can skip the Bennett Mt. turn off for a quick 6-7 mile loop that's generally very flowy, with a few rock gardens between the bridges and near the school out-and-back. I get somewhere around 10 miles for the full loop with the out-and-back. Personally, I think it's a great trail for an advanced beginner - lots of flow to keep it fun, but some challenging sections to improve your skills. My only complaint is that the neighborhood has continued to grow and in some places where you used to be riding in deep woods, you're now right behind people's houses (there are still some pretty scenic sections).
Rode this trail twice in the past few weeks. Great trail in my opinion. Good flow and some rocky sections. While there is a lack of trail markers, I had no problem completing the entire loop without any issues. There is only 1 section of trail that goes up by the school that doesn't loop and you just turn around. When you come to road crossings, you can easily find the trail connections on the opposite side. Its a good 30-40 minute drive from the triangle but worth checking out. I know I will go back again.
Rode today and was disappointed by the lack of trail markers. As I arrived there was another rider that had just returned to the pool parking lot and said that after not being able to follow the trail, decided to just pedal back to the car and call it a day. I brushed this off and went about my ride. I wish I could say that they were blind and not able to see the trail markings. This is the poorest marked trail in the area. Now, there is a lot of construction around the trail and this may be the reason for the poor markings. Trail signs point you in a direction and then you find yourself crossing pavement with no further direction posts. At one point I followed a sign that pointed me up a mulch covered trail and ended on a street with what looked like a storage shed and could not find the trail.

Again, there is a lot of construction around the trail and this could be part of the problem. On the positive the trail did have some good rock garden areas and found them fun. A single track trial in a community setting is awesome. I did see people enjoying the hiking trails as well.

I agree with others that this trail is poorly marked. I rode it two years ago with a group, and had no problems as they knew the trail. Even if it's a 2x4 with a laminated sign pointing you in the direction of the trail, that would be very helpful.
Concerning the previous user's review and their personal opinion aside, I wanted to make sure correct information is being publicized:

We only lost the double track and that was never permanent and we all knew it. All trail has been connected and is running. More trail is continually getting built. The trails no longer connect to the old double track as this time. The trail up hill to the school will eventually have a paved connector through development to complete the downhill loop. Right now we are workingplanning for the next mile of trail to be contracted. 7 miles now and soon to be 8.
there is no trail anymore..over 1/2 the trail is gone..there is a little bit of the trail there but you are basically riding behind peoples homes..alot of the homes now back up next to the trail..do not waste your time driving over there...the trail that was there is now been bulldozed for cookie cutter homes...its a shame too..that was a fun place to ride.
Great trail. Not sure if it was just me but at the point on the trail when you get to the school it seems like the single track blended in with the jeep trails, slightly confusing for the amateur but very enjoyable trail overall
Show all reviews