Your source for Mountain Biking in the Triangle

Raleigh-Durham-Chapel Hill
Trail Name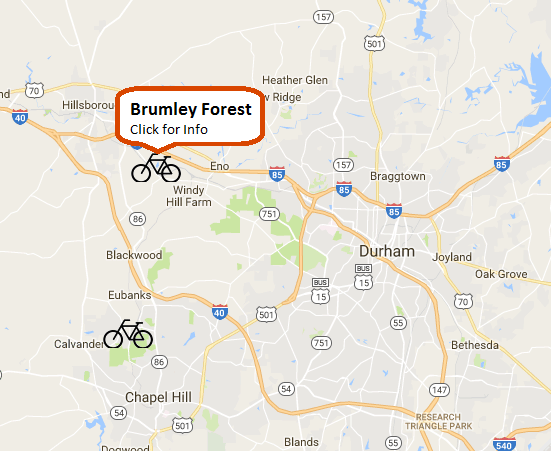 Current Trail Status
Status
When Updated
Who Updated
More Info
Help keep this info accurate by clicking the red bicycle
open
05/26 1:30 pm
David H
Average ratings submitted by users
Write a review
User submitted reviews
| | |
| --- | --- |
| Category | Average Rating |
| Overall : | 4.0 / 5.0 based on 7 votes |
| Technical : | 1.4 / 5.0 based on 7 votes |
| Climbing : | 1.4 / 5.0 based on 7 votes |
| Freeride : | 1.9 / 5.0 based on 7 votes |
| Scenery/Wildlife : | 4.0 / 5.0 based on 7 votes |
| Flow : | 4.3 / 5.0 based on 7 votes |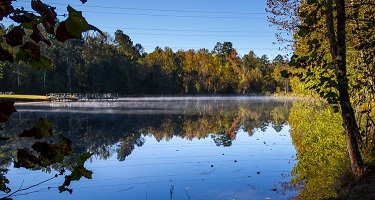 Description
Location: North of Johnston Mill Nature Preserve and east of Duke Forest, between Durham and Hillsborough
Miles: 9
Skill Level: Beginner


Map
Directions
Park Hours and Fees
Rules of the Trail




Trail page still under construction, stay tuned for more info!

Driving Directions via Google


Park Hours and Fees
Dawn to dusk, seven days a week. There is no fee.
All riders must wear a helmet.
Respect the rights of all other trail users and obey park rules and regulations. Bikers must always yield to walkers.
Plan Ahead.
Ride only on officially marked trails.
Keep your bike under control.
Do not disturb or alarm wildlife.
Pets must be kept on a leash at all times.
Leave no trace (don't litter).
Set a good example and report violators/hazards.
Allow time to finish outings before the park closes.
Park management has requested that group rides park at the boat ramp parking area. This leaves ample parking for the users of the open play lot.


This trail is not open for night riding except under organized night ride events coordinated with cycling clubs and park staff. Stay tuned to this site for upcoming night rides.

Review Brumley Forest trail
Rules, guidelines, and definitions for our TriangleMTB.com trail reviews

The trail reviews should be reviews based on first hand knowledge. If you have never ridden the trail, then ride it before reviewing it.
Obviously, the ratings and reviews should be just that, not big discussions, stuff for sale, or chit chat.
Ratings should be made relative to the other trails in the greater triangle area of North Carolina (listed on our review page). For example, the "Technical" difficulty rating should be relative to the most technical trail listed on our review page.
There should be no references to other reviews in your review (eg. you should not argue or state disagreement with other reviews).
No profanity or vulgar words or context.
Keep in mind, these reviews are opinions only. One mans pleasure is another mans pain. Take the reviews with a grain of salt.
Please report inappropriate reviews using the link that appears beneath the rating summary of each review.
You must be logged into our forum to submit a trail review.
Brumley Forest trail has been reviewed 7 times by our trianglemtb.com guests.
Fast, easy trail. Glad we have another option in the Triangle. If you want fast hard packed flowy fun, this is for you. If you are looking for a technical advanced option, find a different Trail. Thanks again though for continuing to make the Triangle a great place to ride MTB.
The Brumley trails are very nice. Expect lots of people, especially walkers, joggers, etc. Everything is very mild with very little in respect to typical Triangle technical features, in regards to logs, rock piles, climbs covered in roots, etc. A couple of the ravine dips are very square in the bottom, and caught me off guard with how harsh and abrupt they were with little to no transition from bottom to exit. They probably feel very different running the opposite direction. Hopefully these smooth out with age. Just enough high speed off cambers to keep you awake and alert. Well worth the drive from other parts of the Triangle.
Best flow in RTP. Love the planning and design of the trail. Well worth the ride out from Morrisville. Some mild climbs, small jumps and a lot of fun. Will be going back.
Not too technical. One end of Springhouse Loop has some rocky sections that might be hard for a beginner. Same area has some off camber turns that if you come in too hot, you will blow out the turn. In general the trails are not very technical.

There are gradual climbs but nothing very steep. One end of Springhouse Loop has some moderate climbs.

No freeriding. Some very cross country friendly jumps.

Scenery is beautiful. A very nice nature preserve that you definitely feel 'away' from the world. Have seen wild turkey a number of times while being out there.

Lots and lots of flow. This trail offers West Triangle a very nice addition of flow in comparison to other local trails. Briar Chapel has some pieces of flow but Brumley was a much needed and thankful flow trail to have.
A nice, smooth trail that can let you keep up a good cadence without needing to navigate anything too technical. Springhouse has a few rocky areas to keep you on your toes when you are carrying speed. Buckeye is like a smooth roller coaster; another good section to carry nice speed on, except when the clay is a bit wet and gets tacky.

Given the speed some folks can carry through these trails and the fact that the trails are bidirectional, keep your eyes open for oncoming riders and hikers!
Rode only Springhouse on Sunday which was pretty nice as long you avoided the hikers and bikers that think they're on a race track. Great workout especially dealing with the climbs which are not long but steep enough to make you use your tall gears which I haven't use in a long time. It basically reminded me on some trails that I ride up in Canada when I go on vacation.
One suggestion would be to put more markers for the parking direction, had a few people asking for direction and I was lucky enough to print out the map. The only one that I saw was near the bridge where it connects to the Wood Duck way.

Good workout.
Rode on grand opening day (in the intermediate group ride). While I did not find it technically challenging, there's lots of flow, and that equals lots of fun!

There's some rocky sections to navigate, but it's fairly tame... and so are the climbs (because there's virtually zero to speak of) so I think beginners should have no problems.

I went again one week later, and it was a bit damp. The red clay portions made for some slow going as my tires were sinking into the clay. As such, I prefer riding this trail when it's dry (and fast).

All in all, there's a few little jumps, some whoops, and some nice scenery, but it's really all about the flow!

Oh, watch out for 2way traffic that also includes hikers!