Your source for Mountain Biking in the Triangle

Raleigh-Durham-Chapel Hill
Chapel Hill Trails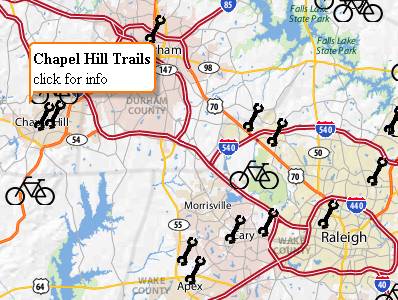 Current Trail Status
Status
When Updated
Who Updated
More Info
Help keep this info accurate by clicking the red bicycle
Airport Side
open
04/26 5:10 pm
David H
School Side
open
04/26 5:10 pm
David H
Average ratings submitted by users
Write a review
User submitted reviews
| | |
| --- | --- |
| Category | Average Rating |
| Overall : | 4.0 / 5.0 based on 43 votes |
| Technical : | 3.3 / 5.0 based on 43 votes |
| Climbing : | 2.9 / 5.0 based on 43 votes |
| Freeride : | 1.9 / 5.0 based on 43 votes |
| Scenery/Wildlife : | 3.8 / 5.0 based on 43 votes |
| Flow : | 3.3 / 5.0 based on 34 votes |
Description
Location: Chapel Hill, near Seawell Elementary School
Miles: 20 miles
Skill Level: Singletrack is intermediate, Doubletrack is beginner

Special Note on Airport and School Side designations
Carolina North may now be opened and closed based on two distinct sections. These sections will simply be called Airport side and School side for the time being and their boundaries should be obvious if you take a look at a map. Seawell School road is the main dividing line between the two sections, the trails to the left of the road are the "school side" and the trails to the right are the "airport side"

Please respect the Carolina North land managers decisions on the open/closed status of each section as a rule even if you may personally disagree with the status.
Our Map
UNC's Map
Park Hours and Fees
Directions
Rules of the Trail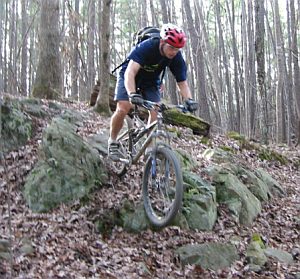 The Chapel Hill trails comprise of two area: Adams Preserve and Williams Tract. Williams Tract is also known as Carolina North Forest. These trails comprise of a mix doubletrack and singletrack. You can ride the doubletrack without riding much singletrack and vise versa. I recommend printing out the map and take it with you. The singletrack is designed to be technical in nature. The doubletrack is predominately smooth.

More info on Adam Preserve
More info on Carolina North Forest
The school side usually dries a few days after rain. The airport side, particularly the inner and outer loops, take significantly longer to dry. Please take this into consideration when planning a ride.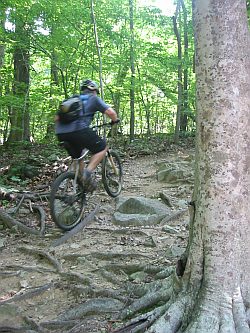 Park Hours
The trails are open dawn until dusk, 365 days a year.
Please see the Trail Status at the top of the page for closures due to trail conditions.
Fees
There are no fees to ride here

Directions
There are several places to access the trails. The most popular parking area is Seawell Elementary School. Parking is not allowed here during school hours. To get here from MLK Blvd, turn on Homestead. Go 3/4 miles to Seawell School Rd. Turn left. Go 1.5 miles. The Parking area is the third one on the right.

Driving Directions via Google
Rules of the Trail
1. Be aware and considerate of other users.
2. Leave No Trace. Please don't litter. Preserve what's here for the benefit of future users! Trees, brush & grasses are not to be cut, painted, scarred, harvested or otherwise damaged.
3. No New Trails are to be blazed, cut or otherwise established. Unapproved structures & stunt features will be removed.
4. Signs, Advertisements or Notices will be removed. Unauthorized material can be claimed at the Land Management & Trail Information Office.
5. Don't Block The Gates - The Forest Road network is for emergency use & land management operations.
6. No Motorized Vehicles - Motor vehicles (cars, trucks, motorcycles, all-terrain, off-road & utility vehicles) are not allowed in the Forest.
7. Trail Courtesies - Bikers must be aware of hikers & joggers. Hikers & joggers using bike trails must yield right-of-way to bikers.
8. Pets MUST be leashed. It's the law! Please clean up after your pet.
9. No Alcohol - Possession or consumption of alcoholic beverages is not allowed in the Forest.
10. This Area Is An Ecological & Wildlife Preserve. Hunting, trapping, fishing & gathering activities are not allowed. The removal or destruction of any object (animal, rock or artifact) is prohibited and is considered vandalism.
11. Camping is not permitted in the Forest.
12. No Fires or fireworks are allowed in the Forest.
13. Firearms are prohibited in the Forest, including air rifles & paint guns.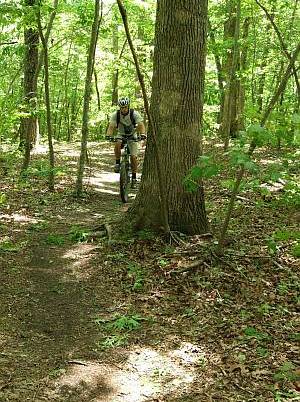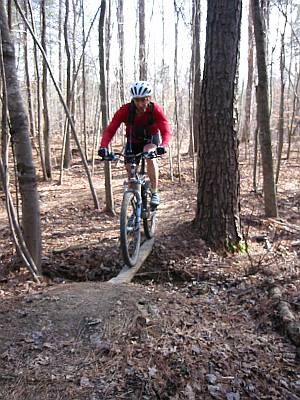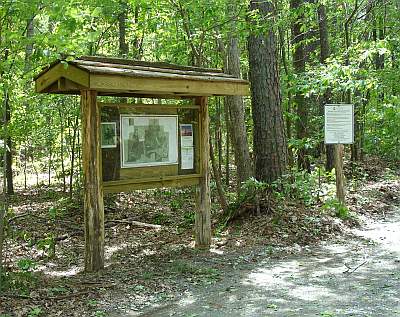 Review Chapel Hill trail
Rules, guidelines, and definitions for our TriangleMTB.com trail reviews

The trail reviews should be reviews based on first hand knowledge. If you have never ridden the trail, then ride it before reviewing it.
Obviously, the ratings and reviews should be just that, not big discussions, stuff for sale, or chit chat.
Ratings should be made relative to the other trails in the greater triangle area of North Carolina (listed on our review page). For example, the "Technical" difficulty rating should be relative to the most technical trail listed on our review page.
There should be no references to other reviews in your review (eg. you should not argue or state disagreement with other reviews).
No profanity or vulgar words or context.
Keep in mind, these reviews are opinions only. One mans pleasure is another mans pain. Take the reviews with a grain of salt.
Please report inappropriate reviews using the link that appears beneath the rating summary of each review.
You must be logged into our forum to submit a trail review.
Chapel Hill trail has been reviewed 43 times by our trianglemtb.com guests.
Great set of trails for the beginner/intermediate rider. Not to crowded, good signage and variety throughout this side.

Wormhole starting from the south side is technical and knobby and gets progressively more flowey as you ride it. Cow branch offers a lot of flow and some good short climbs and technical batches that popup and remind you to always check your line! Never Land lives up to its name and utilizes the train well!
It is great to have so many miles of trail within the city limits. However, there is very little flow, climbs, and, aside from roots, nothing very technical. These are multi-use trails, so watch for hikers/trial runners, especially on the airport side. Easy to get temporarily lost if you are not well familiar with the trials.
Trail has fire roads for easy rides. Harder technical sections on single track. Please be considerate of other trail users. The trail system is used by many. Climbs are short with a few steep climbs. Lots of roots and rocks are fun for intermediate riders but may frustrate beginners.
This is a review of Wormhole, on the airport side; more to come as I get to know other trails at Carolina North Forest.

Overall, I liked Wormhole a lot more than my numbers suggest. It's tight, twisty singletrack--watch out or you'll catch a bar on a tree--with lots of roots and rocks, enough big log and stream crossings to keep you alert and a few (though not v. many) chances to get some air off of obstacles. As some other folks have pointed out, the trail's so tight and twisty in places that it's hard to get much flow. But I got my heart rate up and felt like I got a decent workout, in addition to having a lot of fun. This place will polish your bike-handling skills.

It's nearly impossible to get turned around on Wormhole because it mostly runs between a RR track and one of the main CNF dirt roads; if you hit the RR bed or the road, you know you've accidentally taken one of the side trails. And if, for whatever reason, you need to bail, you can just zip back on the dirt road at a lot of points.

I live in Carrboro, so part of what I loved about the trail and CNF generally was the convenience. It's a 10-minute ride, max, from my house--being able to ride out the door is a big bonus.

All in all, I probably wouldn't drive to the Hole from Durham or Raleigh. But for locals, Wormhole--and I'm assuming CNF--offer a great fun-to-hassle ratio.
Had alot of fun on this trail. The map is hard to read but after figuring out where I was had alot of high speed fun
Amazing! My favorite single track in the area. Good combination of flow, obstacles, and scenery.
Lots of tight spots (i.e. trees)to maneuver, but the trails still have a good flow. A good amount of trials to ride. There were quite a number of joggers sharing the trails. The trails are not well marked and since I am not familiar with the trails on the airport side I did lose my bearings. I recommend taking UNCs map.
I have only ridden most of the airport side so far but I think it is a great trail. Some tight spots and some technical parts but nothing too crazy. Trails cross fire roads every so often which is nice in case you need to bail or have bike issues. About a 30 minute drive from the triangle but worth the drive. If you ride crabtree or harris and want to step it up a few notches, give this trail a try.
I took the Wormhole out from the school and did all of Crow Branch, taking the Vine back. What a great ride! After doing New Light a few weeks back and having trouble maintaining flow due to frequent climbs and sharp turns on a bed of soft pine needles (as well as getting hopelessly lost because none of the maps seemed to match up with reality), Wormhole and Crow Branch were a breath of fresh air.

Don't get me wrong—these are some gnarly trails (literlly: full of gnarled roots). It'll rattle your bones. But that's exactly what I crave: I love me some roots and rock gardens. Give me something I can lock up my back tire and slide around on. These trails delivered plenty of both. (Note: you can NOT eat a Cliff bar while you bike this loop; you will need both hands on the bars. :-))

Another great thing about this trail system (at least the Airport side—I haven't tried the other yet) is the frequency of cutback points. You can take a beginner friend out—or go out yourself on a time budget—and have constant opportunities to bail out on smooth fire roads.

A note on route planning: I tried Crow Branch counter-clockwise at first, starting from the northmost point. Within 2 tenths, it became clear that it was meant to be ridden in the other direction: I kept hitting impassable walls and having to climb up jumps that would have been a lot more fun in the other direction. Once I turned around, everything was golden. So remember: clockwise is the key!

My only regret was that I was unable to maintain enough speed to catch air on any of the jumps. It's a gloriously twisty-turny trail with lots of narrow dodges between neighboring trees, a great place to break an arm or eat a trunk if you're reckless. But jumpabilty doubtless improves with familiarity, and I'll definitely be going back again and again.
I rode the airport side yesterday with my 10 yr old son. I would consider this an intermediate trail (more difficult than Crabtree or Harris Lake). It has some short steep hills and several logs across the trails. Definitely a fun ride but watch out for joggers and people walking their dogs. A map will come in handy. I found detailed maps here:

http://www.fac.unc.edu/LinkClick.aspx?fileticket=-nOpSF771Yc%3d&tabid=727&mid=1717
Show all reviews