Your source for Mountain Biking in the Triangle

Raleigh-Durham-Chapel Hill
Lake Crabtree County Park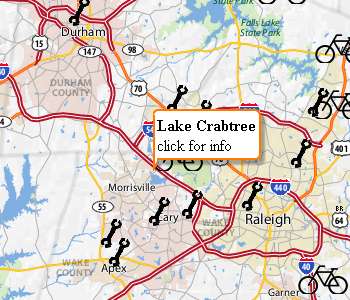 Current Trail Status
Status
When Updated
Who Updated
More Info
Help keep this info accurate by clicking the red bicycle
open
05/22 2:11 pm
coop
Average ratings submitted by users
Write a review
User submitted reviews
| | |
| --- | --- |
| Category | Average Rating |
| Overall : | 3.7 / 5.0 based on 49 votes |
| Technical : | 1.8 / 5.0 based on 49 votes |
| Climbing : | 1.7 / 5.0 based on 49 votes |
| Freeride : | 2.5 / 5.0 based on 49 votes |
| Scenery/Wildlife : | 3.1 / 5.0 based on 49 votes |
| Flow : | 4.1 / 5.0 based on 38 votes |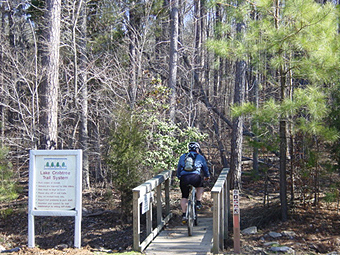 Description
Location: Just south of the RDU airport, off Aviation Parkway.
Miles: about 8
Skill Level: Beginner
Contact: Park office (919)460-3390 (call to see if trails are open)
Map
Park Hours and Fees
Directions
Rules of the Trail
Pump Track

Lake Crabtree County Park singletrack is by far the most popular place for beginner riders in the Triangle. Its central location is also great for relieving weekday stress if you work in RTP. The wooded trails connect to Umstead State Park and Cary's Black Creek Greenway.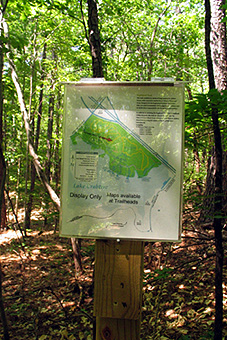 Since it's so popular, plan on passing lots of other riders when the weather's good. Please be courteous and cautious with the riders you meet here. It is a great place to learn to ride and don't expect to come here and hammer people out of your way. Stopping to help out beginner riders does a world of good for our sport. There are six loops, some connectors, and the Lake Trail.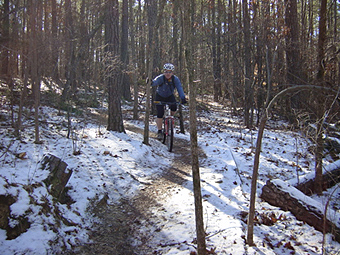 IMPORTANT NOTE: Crabtree trails are closed when they are muddy. Call ahead to see if they are open. Please respect the rules of the trail and don't ride on closed sections.

Directions
Go towards RDU airport on I-40 and exit onto Aviation Parkway going south. Crabtree County Park entrance is on the left. You may park in the first gravel parking lot or at the boat ramp parking area. One of the main trail entrances is across the road from the first gravel parking lot. Another great way to access the trail is via Connector C.
Driving Directions via Yahoo

Park Hours
8:00am to sunset, seven days a week. The park is closed on Thanksgiving Day, Christmas Eve, Christmas Day, and New Year's Day.
All riders must wear a helmet.
Respect the rights of all other trail users and obey park rules and regulations. Bikers must always yield to walkers.
Plan Ahead.
Ride only on officially marked trails.
Keep your bike under control.
Do not disturb or alarm wildlife.
Pets must be kept on a leash at all times.
Leave no trace (don't litter).
Set a good example and report violators/hazards.
Allow time to finish outings before the park closes.
Park management has requested that group rides park at the boat ramp parking area. This leaves ample parking for the users of the open play lot.
Thanks to the wonderful staff of Lake Crabtree Park and volunteers, the first public pump track in the triangle area has been built. The pump track is located near the "old field rows" label on the map near the intersection of Connector A and Loop 1.

A pump track is a series of rollers and berms. Its intended to teach one to learn how to pump their bike over ups and downs on a trail, which when mastered, a person will be able to accelerate their bike with out pedaling. The pump track is not really intended to be jumped, which defeats the purpose of the track.

Rules/Guidelines

The building of the pump track involved uncounted hours of planning, negotiations, and construction labor. Please follow these guidelines to help preserve the pump track in a good condition.

no skidding
no pedaling
no braking
helmets required
lower your seat
body position should be more upright as you approach the roller
push down as you come over the roller
easier on a hard tail but can also be done on a full suspension bike

Note that if feels awkward at first. But once you get use to it, it's a lot of fun and a really good workout. Pedaling and braking destroys the rollers and berms. Especially when you "catch" a roller by pedaling over it.





This trail is not open for night riding except under organized night ride events coordinated with cycling clubs and park staff. Stay tuned to this site for upcoming night rides.

Review Lake Crabtree Park trail
Rules, guidelines, and definitions for our TriangleMTB.com trail reviews

The trail reviews should be reviews based on first hand knowledge. If you have never ridden the trail, then ride it before reviewing it.
Obviously, the ratings and reviews should be just that, not big discussions, stuff for sale, or chit chat.
Ratings should be made relative to the other trails in the greater triangle area of North Carolina (listed on our review page). For example, the "Technical" difficulty rating should be relative to the most technical trail listed on our review page.
There should be no references to other reviews in your review (eg. you should not argue or state disagreement with other reviews).
No profanity or vulgar words or context.
Keep in mind, these reviews are opinions only. One mans pleasure is another mans pain. Take the reviews with a grain of salt.
Please report inappropriate reviews using the link that appears beneath the rating summary of each review.
You must be logged into our forum to submit a trail review.
Lake Crabtree Park trail has been reviewed 49 times by our trianglemtb.com guests.
Great learning trail! For those just getting into MTB this would be the place to go. Very organized trails, clearly marked and well maintained.
Awesome place to learn and develope skills! Jumps, pump track, flowing trail, technical sections, and minimal climbs make Crabtree a blast! Not to mention the family of deer that hangout along the trail. If you have not already, you've got to checkout crabtree.
Pretty good flow so it can be pretty fun if you ride fast. A few good jumps along the trail and then, of course, there are the dirt jumps which is my reasoning for giving a high freeride score. Nothing much in the way of climbing but if you ride it fast you will definitely get a good workout.
Trail had great flow and a little bit of everything, not to technical but great ride highly recommended for all levels of riding!

>Trail includes:
Jump section (beginner and more advanced)
Pump section
Skills sections (great balance and drop off pieces)
Some nice hills and climbs, but overall not technical (few rooty parts)
Flows great!
Nice lake side trail, offers great scenery, benches to rest, and many views of lake.

Just go you will not be disappointed!

*Due note this trail can be very tricky to navigate for the first few times, lots of intersecting loops, but had a ball anyway going in circles till I had enough.
Good place to learn how to ride fast. Definitely not a technical trail system. Although, there are a few sections where you can learn to corner without braking. Other than that no big hills and nothing very strenuous about, Crabtree. Just a fun, fast track.
No detailed review given.
This is a very nice fast trail. Not very technical except for some sharp turns. If you want to have fun, ride fast this is the trail for you...
No detailed review given.
No detailed review given.
Trail has a few technical sections and turns but overall is just very flowing and fast. This is a good trail if you want to just fly through the woods and hit a lot of banked turns. I gave a high freeride rating for the jumps section which has sizes for all skill levels.
Show all reviews
"Our paths to off-road mastery reflect our personalities."
-Hank Barlow